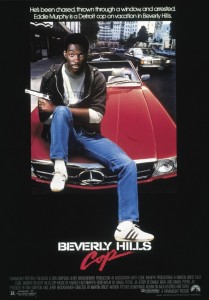 If you want to write films, you must read scripts and watch movies. Simple. With that in mind, I sat down to watch Beverly Hills Cop (probably for the 7th or 8th time) for just one purpose. Let's call it a Single Purpose Viewing (SPV). That purpose? How the action scenes moved the story along.
I've read that one of the many cardinal sins of action films is that the action sequences (you know, those things from the trailer that got you to buy a ticket) only exist to show action. They don't actually advance the plot, develop the characters, or do anything for the story. If you took them out of the film, the story would still make perfect sense.
Since I'm in the process of outlining an action-comedy, I want to do it right. That's where Eddie Murphy and Beverly Hills Cop fits in.
Our fast talking hero is introduced in the back of a truck full of illegal cigarrettes. He's a quick talker that doesn't want to be ripped off. Quickly it transforms into a chase with crashes, an explosion, and cop cars wrecked wrapped around lightpoles. Not exactly what he'd planned.
At the end of the chase, the line: "Foley, we shoulda known it was you." is uttered. It's the first time his name is mentioned. Now we know:
1) He's viewed as a screwup.
2) He takes risks.
3) His schemes get out of hand.
4) He probably has disregard for the rules.
This is all confirmed by the next scene with his boss.
The non-action scenes set things up, establish relationships, make the consequences of the action scenes matter. We see that he and his friend are true pals, so we're saddened when he gets shot. This scene makes the entire movie happen, so there's no possibility of it being inconsequential. It is brutal though. The henchman seems like he'll let him go, only to shoot him in the back of the head. So now we feel, just a little bit more, Foley's need for justice/revenge.
Foley visits his prime suspect, only to be thrown out of an office window by 6 guys. The absurdity of this happening (as opposed to someone opening the damned door instead) isn't lost on anyone. Foley immediately comments on it. It also serves to get Foley together with our friends at the Bervely Hills Police Department. Now we have:
1) Added suspicion on the guy who tossed him out.
2) Connections with the local police.
Beverly Hills Cop doesn't have a great number of major action sequences (the sequel packs them in a bit more). But the ones it does have serves their purpose. The strip joint robbery attempt may seem like a throway scene, but it does many things:
1) Establish that Foley is a good detective, observant.
2) Shows that Foley can be serious when required.
3) Foley is now respected by the Beverly Hills cops, instead of being seen as a fool.
Lessers movies could have done all of these things with dialogue or flashbacks, but the audience would much rather see them come to light with shotguns and bare breasts.
When Foley and his friend are captured (a quick reversal of fortunes), it's up to Billy, the "nice guy cop" to step up. It gives him the responsibility, him the power. He steps up, showing that he's grown and isn't as beholden to the rules & regulations of his world. The student saves the teacher.
The final action sequence culminates in a grand shootout. The other Beverly Hills cops show up, crossing over that line that held them back previously (search warrants, telling the truth, etc.). They've overcome a handicap, of sorts, by helping Foley on his quest. It's an interesting twist in which the protagonist doesn't grow an awful lot, but his supporting characters come to see the wisdom in his choices instead.
Just to make this post 60% more 80's, here's the theme song for your enjoyment.