Candy corn is one of the most polarizing treats in existence. Want proof? You were either intrigued or repulsed after just reading the title of this post. There's no middle ground. Sides taken, let the candy war begin.
Nowadays every treat has variations, flavors and holiday versions. From Mint Oreos to Caramel Irish Creme to Crystal Pepsi. Everyone likes to try out a twist on the original. That brings us here.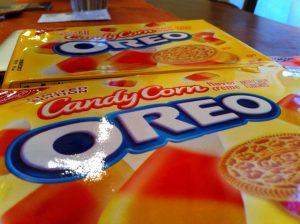 Intrigued by this new abomination, and firmly in the "candy corn good" camp, I decided to conduct an experiment. Gather friends, coworkers, candy and an audio recorder. Compare the candies labeling themselves as candy corn flavored with the real deal. Simple.