Your movie franchise made it to the 7th installment. Congratulations! Good for you. Way to stick it to those pathetic trilogies. You gotta commit if you want staying power, amiright? But what should you expect? How have other 7th films done? You've come a long way, but now every other news story is about how it couldn't possibly live up to the hype (or the original). And there's no curve for nostalgia. To the history books!
My Arbitrary Criteria: No spinoffs.  The Alien movies are out because we'd have to include the Alien v Predator movies to get to 7. X-Men also doesn't count, as two of the films were mostly Wolverine-only affairs. As much as I'd love to include Land Before Time (13?! films), we're strictly live action for this list (which still includes muppets, strangely). No complete reboots (Sorry Batman). Also, English only (Sayonara Godzilla).

In chronological order:
Bond – Diamonds are Forever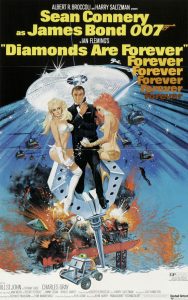 9 years after the original (1962-1971)
IMDB Users – 6.7/10
Rotten Tomatoes – 65%
What was it?
Connery, Blofeld, a woman named Tiffany Case (Jewelry Handbag? Moxie Manpurse?), classic Bond. Also known as "Hey, isn't that the one after George whatshisface was bond for like half a minute?" Not be confused with "The one where Sean Connery comes back, but he's significantly older" (Never Say Never Again).
How'd it go?
Domestic Adjusted Gross: $43,819,500 – 18th in the series. Not bad considering there are 25 of these things (and the series will continue on long past we're all dust). Adjust for ticket price and it's actually #9 out of the bunch. Either way you cut it, it's firmly a middle of the road bond film that people generally enjoy.
---
The Pink Panther – Curse of the Pink Panther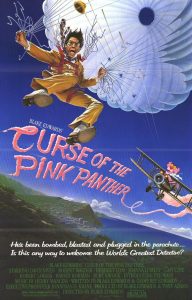 20 years after the original (1963-1983)
IMDB User Rating – 4.2/10
Rotten Tomatoes – 29%
What was it?
A film centered on trying to find your star would be an anomaly in any other franchise. But for The Pink Panther, this was actually the second such attempt. The previous year's Trail of the Pink Panther pulled a similar stunt, but cut together the film with unused footage of Peter Sellers (who died in 1980). Curse's plot revolves around another bungling detective following the trail of Inspector Clouseau. Which, knowing the star died 3 years prior, is actually a bit sad, now that I think about it. Thanks a lot Pink Panther.

How'd it go?
Domestic Adjusted Gross: $11,351,200 – 9th in the series (out of 10). Only Son of the Pink Panther did worse. The Inspector was rebooted into real-life cartoon Roberto Benigni, who couldn't resist hamming it up so much that you can feel it IN THE POSTER.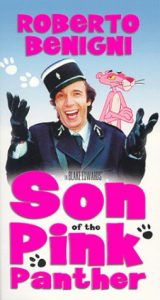 The failure of that shrug led to the series being rebooted with Steve Martin in 2006. (more…)