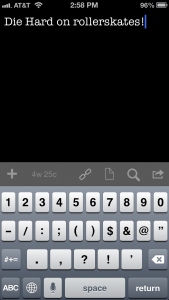 The need: To very quickly get an idea out of my head and onto my phone/device.
The problem: Carrying around paper and pen doesn't always work. It's an extra thing for my pockets, my handwriting is atrocious, and I'd often forget to transcribe it to digital form later.
The solution: Drafts from Agile Tortoise (a software company, not a ninja turtle).
Why it works: Tap on it and it loads to a fresh document in under a second. No waiting. No selecting "new document", no navigating to the correct notebook in Evernote, no fumbling around trying to email yourself while your idea floats away, never to be seen again.
Why it's awesome: It's more than just quick note-taking. It's all about shuttling those ideas quickly too. Say you want to send that note as a txt to a friend? No problem, it's built in. Or as an email to yourself? Easy. Or post it to twitter, Facebook and Google Plus all at the same time? Doable.
This is all possible because Drafts has a ton of built-in actions you can use to get your ideas other places. When you have time, after your idea is safely in digital form, it's time to sort through things. Just tap the share icon and…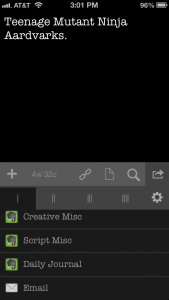 With one more tap, I can send it to append an already existing Evernote note, create a new note based on the date/title/whatever, email it to myself, post to twitter, etc. Super convenient. No more copy/pasting (which no one likes to do on a mobile device).
I find it incredibly useful, perhaps you will to. Here's the iTunes link for your convenience (it's $2.99). Oh, and just because I'm a nerd, here are the icon alternatives I came up with (because the only thing I don't like about it so far is the somewhat drab icon). Enjoy.