Lethal Weapon 2 by Jeffrey Boam
Unknown Revision Script. April 1989 (with draft pages dating back to December 1988). 121 pages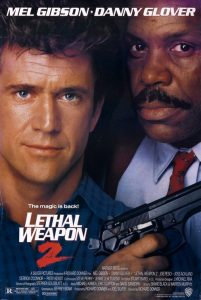 The successful followup to the action comedy blockbuster that redefined the genre. Or, for those having trouble remembering all the sequels to movies from the 80s: Mel Gibson fights South Africans and an exploding toilet. See, that jogged your memory.
The script for this film used to be online, but was removed (likely at Warner Bros' request). So everyone online links back to the same broken page. Not be deterred, I located a physical copy of the script from a friendly library. This had the added benefit of being remarkably close to what we see in the finished film. The scenes are numbered and the sequences underlined ("Opening Chase" for example), so I'm betting this was the shooting script (or revised after the fact to closely match the finished film).
I sought out this particular script because 1) it's a fun movie, 2) it's a different writer's take on someone else's characters (although two other writer's are credited for the story) and 3) I'm also writing an action comedy. What works? What doesn't? How do they balance the comedy and the action? Does every action sequence serve a narrative purpose? How do the characters evolve from the previous film in the series? How different is this film while keeping some of the stuff that made it so popular in the first outting? That's the mindset I went in with.